It was a very busy year for Irish Whiskey. The first half of the year we were in and out of lockdown, almost used to it at that stage and drinking at home turned into finer whiskey becoming the normal dram. Did this contribute to more releases, higher abv and higher overall prices?
Including redesign releases and some flavoured spirits from big players like Jamesons' Orange we had over 250 releases this year. We had 3 distilleries bring their own whiskey spirit to market for the first time with Ballykeefe, Connacht and Rademon Estate Distillery showing us what has been quietly aging away since they opened. An honourable mention must go to Echlinville for their Old Comber which contains their own SPS too.
To get a better picture of how these releases have come, I've broken down by style to get an idea of what is the most commonly released, while removing any redesigns, and showing purely new releases.
We can clearly see Single Malt taking the bulk of releases with a mix of them coming from old and new faces.
The second highest released was blended, the most diverse in terms of producers with 23 different producers coming out with a blended Irish Whiskey this year. Single Pot Still releases come in below that. This is a category I hope to see grow more over the coming years. It being protected by the Irish GI is an opportunity in itself that we should really take hold of and make it our own. Also, with the current restrictions on mashbills up for debate we might be able to finally see a wider spectrum of Pot still. In saying that, we had 13 brands release a pot still this year. Finally, we have the Single Grain category, currently the most under served styles. There seems to be growing demand for aged single grain so perhaps we will see more coming down the pipelines this year?
ABV Details
We've seen a bit of a shift in what consumers are accepting as a baseline ABV for whiskey and it looks like the producers have listened. At an average of 51% ABV per release, we're seeing more and more Cask Strength releases, and budget releases coming in at 43 or 46% instead of the usual 40%.
Surprisingly, most of the 40%-43% ABV bottles were indeed budget friendly, with the average being €45 excluding the outliers. The outliers in this case would be Midleton Very Rare 2021, coming in at 180 first release and 200 for the second release, understandable with the aged whiskey being blended into it, but a controversial piece as to why it hasnt been bumped up to 46% like the Barry Crockett Legacy to give consumers a little more bang for their buck. The 30 year old American Oak Causeway Collection rings in at a whopping 750, and at a cask strength 41.8% and Connacht The First Cask was €150 43% bottling, their first bottling.
There were some bargains to be had at the other end of the spectrum with Red Earl Cask Strength retailing for €60 and packing a serious punch of 63.4% or The 2nd installment of The Legendary Dark Silkie Cask Strength for €80 for 64.3%!
Price Details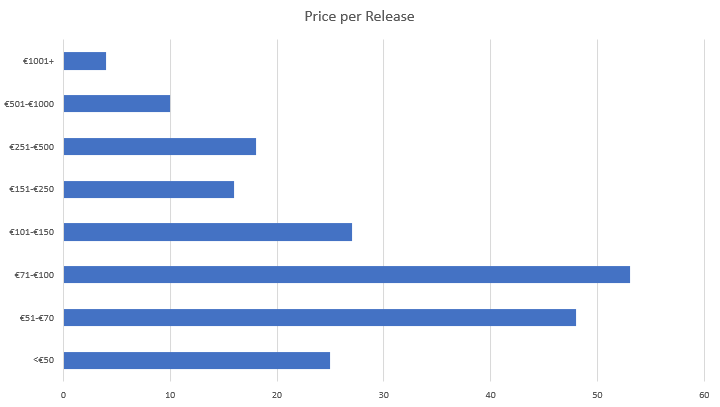 It's been an expensive year to be an Irish Whiskey fan. If you were to buy all releases this year you'd be looking at around €90k including the ultra expensive releases.. If you wanted to keep each bottle below €1,000 you might have a bit of change for your mixers out of €32k. In line with the 'under €1,000 a bottle' thinking, we're looking at an average price tag of €148 per bottle
Of the releases that had specified the number of bottles in the released (limited releases) leaves us with a €192 average. It begs the question of whether producers are seeing the increase in Irish Whiskey collectability and trying to capitalise on that, or if its down to the taxes in Ireland directed at alcohol? The average age of limited releases was 16.8 years old with nearly 46% of them having no age statement.
Weird and Wonderful
Irish whiskey has become well known in weird and wonderful cask aging, with our regulations allowing any wooden cask to be used to age the whiskey in. This has allowed for 50+ different cask finishes to be released this year.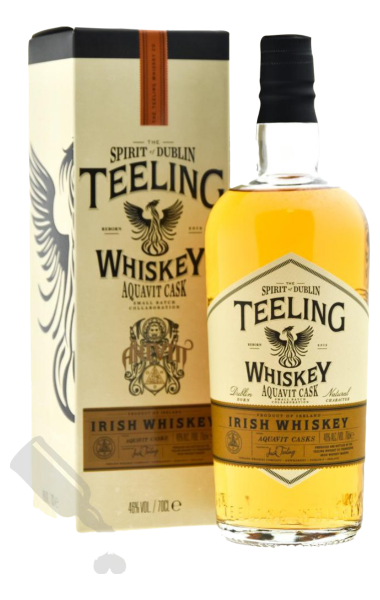 A first for Irish Whiskey , thrice. Roe and Co introduced us to the Japanese Sugi wood, which as part of the process involves elongating the length of the staves and adding five bungs to each cask. Lora Hemy, head distiller at Roe & Co Irish Whiskey explained, "East Asian wood species offer unique and beautiful aromatic compounds and the toasted Sugi in particular it really brings out flavours notes of matcha tea, toasted sandalwood, lychee, orris root and treacle toffee." It seemed to strike a cord with a lot of consumers, with it being sold out online in a short amount of time.
Writers' Tears introduced us to the Ice Wine Finish where hogsheads are filled with Inniskillin Ice Wine and disgourged when aged, then refilled with Writers' Tears Copper Pot liquid and bottled at 46%. It was a firm favourite at the Friends of Walsh Whiskey tasting and sold out almost everywhere online with some bottles coming available on Dicey Reillys for €125 (RRP €80)
Teeling brought a small batch collaboration to Norway collaborating with Oslo craft Distillery (Oslo Håndverksdestilleri). Akvavit is distilled from grain and potatoes, and is flavoured with a variety of herbs and can then aged in oak casks. This is only available in Norway and can still be purchased on various sites.
2021 was a year to remember for Irish Whiskey, and sets us up nicely for 2022. With more and more eyes focusing on the category, it'll be interesting to see whether the avg price will rise with more 'collectable' releases, or if we will see a drop with the increase in supply.