Hello, and welcome to the fourth edition of the 2022 market analysis. We hope that the market report will give you a high-level summary of what's going on at auctions throughout the world, as well as which bottles are hot and worth your attention, as well as which bottles you should absolutely avoid! Thank you for all of your feedback on the reports; it's been exciting to see the interest and it helps develop the report it into a useful resource.
Auction stats Apr '22
We tracked 18 auction results in April, worth a total of €16,544,411 across the industry. For uniformity, we've changed the pricing from the former currency (primarily £) to €, and all prices will now be in euros.
Overall, sales volume is up 12.2 percent from €14.7 million in March. This is a typical uptick before the summer slump, which occurs around June. Surprisingly, while gross sales climbed by 12%, the number of lots sold decreased by 5%, indicating a higher 'Lot Price Average.'
| | | |
| --- | --- | --- |
| Auction Site | Gross Sales | Lots Sold |
| Bonhams Auctions | €555,935 | 132 |
| Catawiki | €1,065,337 | 4,021 |
| Celtic Whiskey Auctions | €38,531 | 96 |
| Irish Whiskey Auctions | €228,868 | 1,100 |
| Just Whisky Auctions | €343,317 | 1,119 |
| Prestige Whisky Auction | €17,592 | 36 |
| Scotch Whisky Auctions | €2,422,547 | 7,529 |
| Speyside Whisky Auctions | €342,065 | 711 |
| The Grand Whisky Auction | €833,555 | 2,053 |
| Unicorn Auctions+ | €1,025,841 | 3,130 |
| Whiskey Bidders | €133,279 | 401 |
| Whisky Auctioneer | €4,829,986 | 8,150 |
| Whisky Bull Auctions | €27,524 | 45 |
| Whisky Hammer | €2,176,811 | 2,004 |
| Whisky-Online Auction | €353,282 | 688 |
| Whisky.Auction | €709,712 | 1,078 |
| WhiskyAuction.com | €1,208,870 | 5,852 |
| WVA Whisky Auctions* | €231,359 | 658 |
| | €16,544,411 | 38,803 |
+finished May 1st
* finished May 3rd but included in the April auction report.
The average lot price across all sites was €654, which is higher than usual for this month. The outliers Bonhams and Whisky Hammer posted average hammer prices of €4,212 and €1,086 respectively, resulting in a discrepancy between the higher and lower averages each auction. When these two are removed, the overall average is €405, which is more representative of the average amount spent each lot by consumers. Myself and the lads at Irish Whiskey Review had a good discussion on cask sales at auction this month, check it out on their YouTube Channel
I also failed to highlight the amount of money spent by consumers on auction house fees in previous editions. Surprisingly, costs totalled €3,558,810, which was not included in the gross sales amount. It's also vital to note the buyer/see fees you'll have to pay vary wildly depending on the auction site you use. You can compare these details on The Whiskey Companion app to find the best fit for you and save you money.
Most Traded By Origin
This month, Macallan saw a little increase, owing in part to a barrel that sold for €1.09 million, bringing the top five Macallan entries sold to €1.46 million, about a quarter of the brand's total gross sales. This month, a considerable number of Sir Peter Blake An Estate, A Community, and A Distillery bottles appeared, with 51 bottles selling for an average of €1,800, up 3% from the previous three months.
This month's auction featured a lot of Springbank, with the Local Barely 2011 being a popular item. With a retail price of €130 and 15,000 bottles manufactured, it's clear that consumers want Springbank but cant get it, especially considering the average auction price is about €700! If you can purchase one of these in a retail store, do do!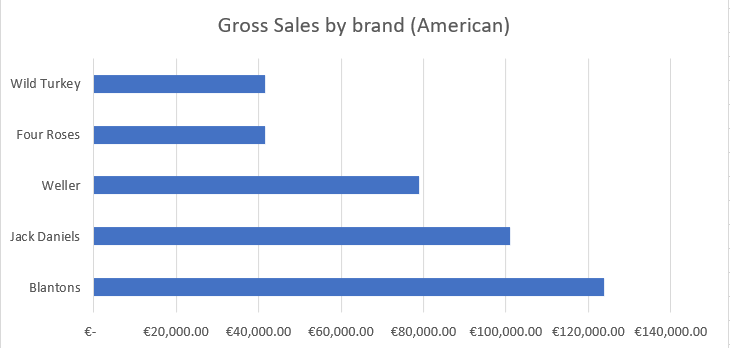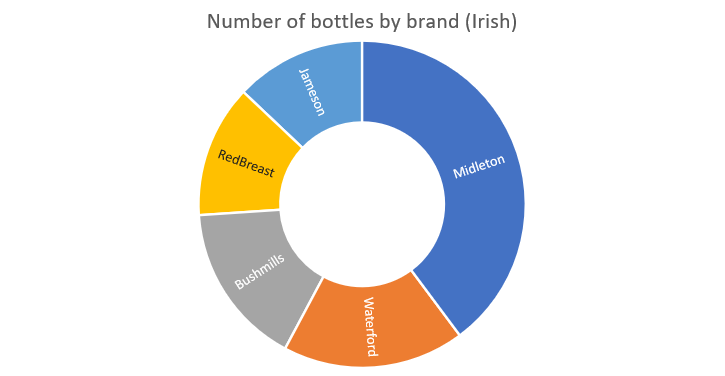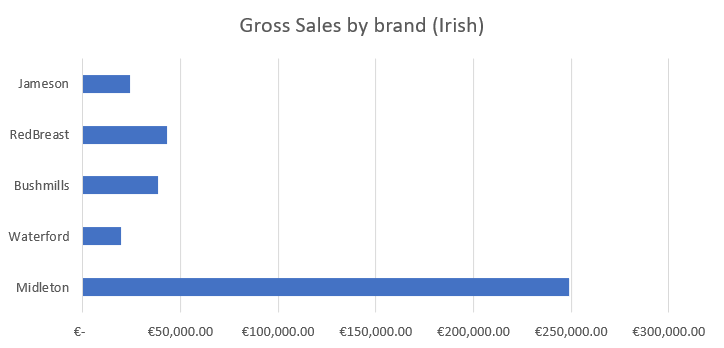 Quite a noticeable drop for Midleton here from last month which we can safely put down to the sale of 2 Midleton has dropped significantly since last month, which we can confidently attribute to the sale of two Silent Distillery bottles. I had issued a cautionary statement in the previous auction report regarding selling Midleton Very Rare 2015s, which had typically risen in March and fallen in April and May. They slipped 2.5 percent to €510 this month, so I'd keep a watch on them again next month. The latest releases in the Very Rare series, 2022, 2021, and 2020, were the top three grossing goods for Midleton, accounting for €46,000.
Pedro Ximenez (PX) from Redbreast had a good month, rising 30% to €159. The Dream Cask series, with gross sales of €15k and the 29 year Oloroso being the most traded, accounts for the majority of gross sales here.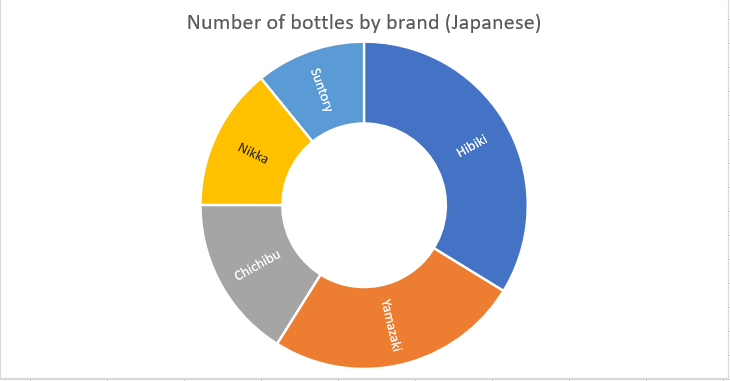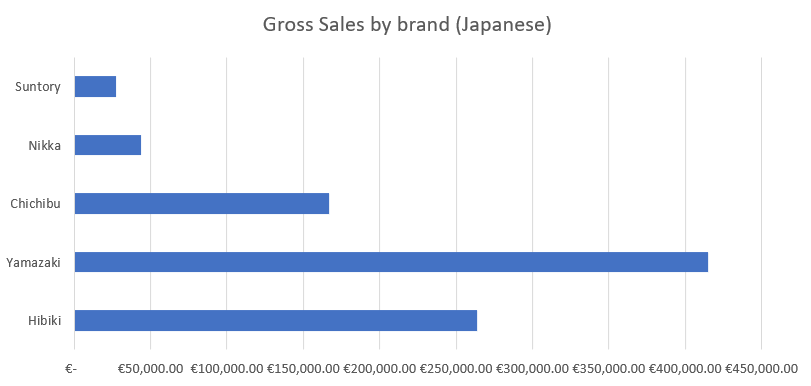 Yamazaki and Hibiki once again demonstrate their supremacy in Japanese collectability. This month, the Yamazaki 25 year showed up four times, averaging €10,300 per bottle, somewhat over the norm. There were a number of 18-year-olds, with 29 of them selling on average for €950. Looking at the top bottles by them, they're all vintage or age statement releases, indicating where the demand in Japanese whiskey lies, as well as the high costs that come with it due to the scarcity of aged stock.
Most Traded (individual expressions)
| | | |
| --- | --- | --- |
| Name | Average Price | Number Sold |
| Macallan The Harmony Collection Rich Cacao | €399 | 183 |
| Ardbeg For Discussion Committee Release | €93 | 157 |
| Springbank 15 Year Old | €174 | 141 |
| Macallan A Night on Earth in Scotland | €151 | 140 |
| Lochlea Sowing Edition 1st Crop | €71 | 133 |
| Macallan Concept No.3 | €233 | 111 |
| Ardbeg Fermutation Committee Release | €282 | 110 |
| Balvenie The Creation Of A Classic Stories Range No.4 | €89 | 115 |
| Macallan Edition No.6 | €186 | 84 |
| Midleton Very Rare 2022 | €290 | 75 |
Top 10 traded bottles
Macallan The Harmony Collection Rich Cacao had a fantastic month, beating off Night on Earth for first place and increasing 6% on the three-month average. With the release of the new travel exclusive 'Fine Cacao' this month, it'll be interesting to see how the volume of product purchased/sold, as well as the price, changes over the following several months.
The Ardbeg Committee releases performed well, with the For Discussion climbing 1% on average and the Fermutation remaining unchanged. It's a tribute to the demand for these releases that bottles are selling in such large quantities.
With its latest release and first installment of the Sowing Edition, Lochlea has another bottle in the top ten this month. There were a lot of bottles, but they didn't sell for much more than retail. This month, The First Release was outside the top ten, decreasing 7% on average, so now is definitely the best time to buy up Lochlea!
With 75 bottles selling on average for €290, a 45 percent increase over retail, Midleton Very Rare 2022 makes the top ten. Midleton's Very Rare release cadence has started to irritate me since it feels they are artificially create scarcity of the bottles by releasing two of the same bottle throughout the year rather than having the supply flow organically to the shops. I digress, and perhaps this is better for a larger discussion elsewhere, but I believe that this manner of release has contributed to the significant increase in secondary market pricing for this bottle (and 2021 although that also had a RRP change in the second release.. ?!)
Movers and Shakers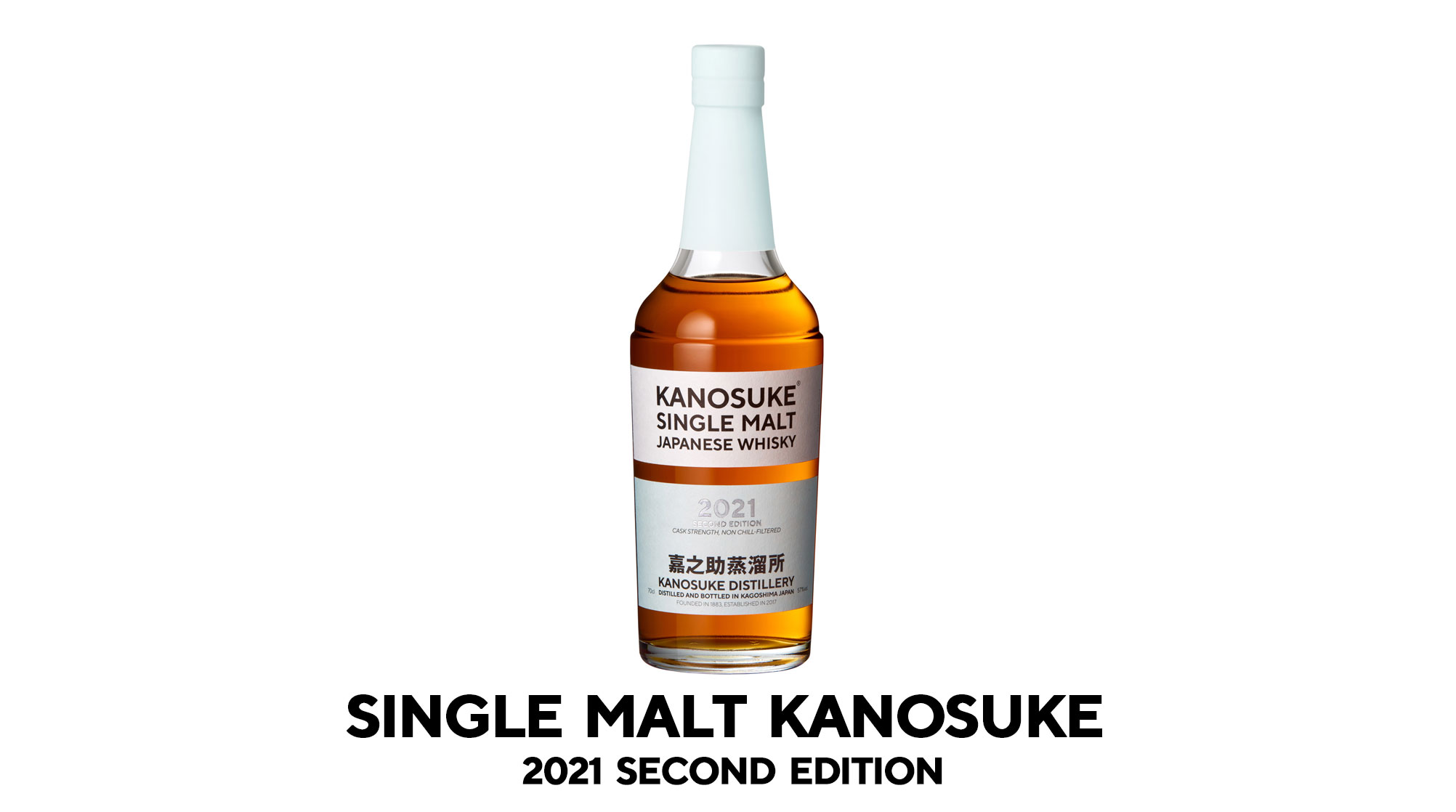 Kanosuke Second Edition 2021 The second instalment of the new Kanosuke Distillery followed a highly sought after First Edition that is trading at a €350 average. The second release retailed at €100 and in its first couple of months at auction went the same direction as its predecessor, however, it looks to have been short lived with a huge drop this month down to €190 on average tumbling from the €300 avg over the past 3 months.
GlenAllachie 14 Year Old Oloroso Finish A UK Exclusive, this GlenAllachie never caught my eye until this month where a stagnant bottle, getting about €140 on average since September suddenly became a €470 average bottle.. What happened? I really cant explain it. If anyone has some insight into this please let us know in the comments!
Kilkerran 8 Year Old Cask Strength 2021 With the Kilkerran Cask Strength 2022 coming out, its only natural for us to see a rise in the previous years expression, but what a rise it is. Getting an average of €146 after a 3 month average of €91 is something to turn your head at and take notice for sure.
Jameson Crested Eight Degree: Black Ball Finally a bit of a rise from the new Jameson Crested collaboration with Eight Degree brewing. The 3rd instalment was recently released, and it seems most of the stock is starting to dwindle from the other two, so naturally we are starting to see that price take a good turn going from €45 (below retail) to €75.
Waterford Hearth – Micro Cuvee : I always thought the Micro Cuveés would be the collection people would hang onto for Waterford. 4 releases a year with the different seasons, a nice story and label and for the most part they have performed well. Hearth on the other hand appears to be in free fall. It's by far the worst performing micro cuvee dropping below retail at €72 dropping from the 3 months average of €97. It was intended as a 'Winter' whisky so perhaps we're seeing a drop due to it coming into the summer and people want to drink a lighter whisky… cause people still drink whiskey… right? 🙂
Ongoing Auctions
So that's all from me on the auction report of April, if you have any suggestions or queries please feel free to reach out to me and I will get back to you as soon as possible. If you'd like to explore this data in more detail, and get the downlow on where you should buy or sell particular bottles, it's all available when you signup to The Whiskey Companion. Until next time, checkout the auction calendar to find the ongoing auctions, with Whiskey Bidders, WhiskyAuction.com, Whisky.Auction all live and Irish Whiskey Auctions bottle deadline along with The Grand Whisky Auction starting on the 11th.