Hello everyone, and welcome to the 2022 market report's third edition. With the market report, we hope to provide you with a high-level overview of what's going on at auctions throughout the world, as well as which bottles are hot and worth your attention, as well as which bottles you should definitely avoid!
Auction stats Mar '22
In March, we had seen a total of 16 auctions conclude, totalling €14,746,424 across the industry. We change the pricing from the original currency (mainly £) to € for consistency, and all prices will be in euros from now on.
Overall, sales volume is up 7.6% from February, when it was €13.7 million. This is also comparable to what occurred last year.
| | | |
| --- | --- | --- |
| Auction Site | Gross Sales | Lots Sold |
| Catawiki | €968,140 | 4,415 |
| Celtic Whiskey Auctions | €39,537 | 113 |
| Irish Whiskey Auctions | €386,995 | 1,092 |
| Just Whisky Auctions | €940,423 | 977 |
| Scotch Whisky Auctions | €2,885,072 | 9,021 |
| Speyside Whisky Auctions | €201,272 | 668 |
| The Grand Whisky Auction | €787,289 | 2,054 |
| Unicorn Auctions | €954,594 | 3,198 |
| Whiskey Bidders | €109,453 | 444 |
| Whisky Auctioneer | €4,421,133 | 8,434 |
| Whisky Bull Auctions | €23,354 | 59 |
| Whisky Hammer | €1,316,349 | 2,417 |
| Whisky-Online Auction | €250,264 | 664 |
| Whisky.Auction | €364,751 | 1,165 |
| WhiskyAuction.com | €1,021,714 | 5,575 |
| WVA Whisky Auctions | €76,084 | 376 |
| | €14,746,424 | 40,672 |
The average lot price across all sites was €374, with some higher averages per auction exceeding €525 and lower averages below €185, indicating a fair mix of client purchasing power and auction reach among the various auction sites.
Most Traded By Origin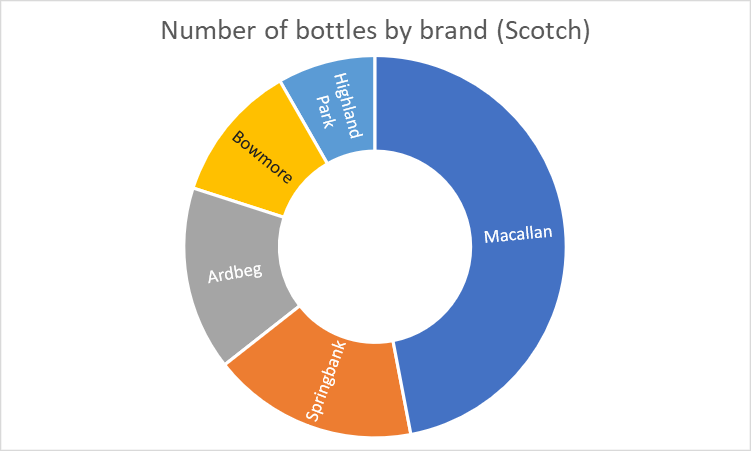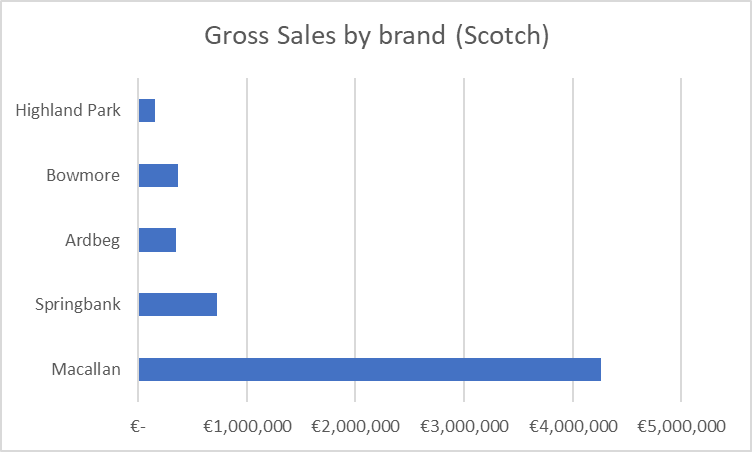 Macallan has a significant hold on the market here, accounting for over a quarter of all auction sales. Night on Earth, Harmony, and Concept 3 are three of the newer Macallans that account for €185k in sales, indicating that it's not just bottles being flipped. With 18 bottles selling for a whooping €248,000, Macallan Archival Folio Series 1 takes the top spot for highest gross sales as a single expression, beating out the 78-year-old Red Collection and Distil your World London, both of which sold for ~€135,000 each.
Springbank saw a high-ticket piece drop 5% this month, with the 1919 50-year-old selling for €23.3k, down from €24.3k last month. It did, however, get a helping hand, with a substantial proportion of the Society bottling, 12 year cask strength, and 15 year old all attracting positive notice and averaging a 9% gain over the last three months.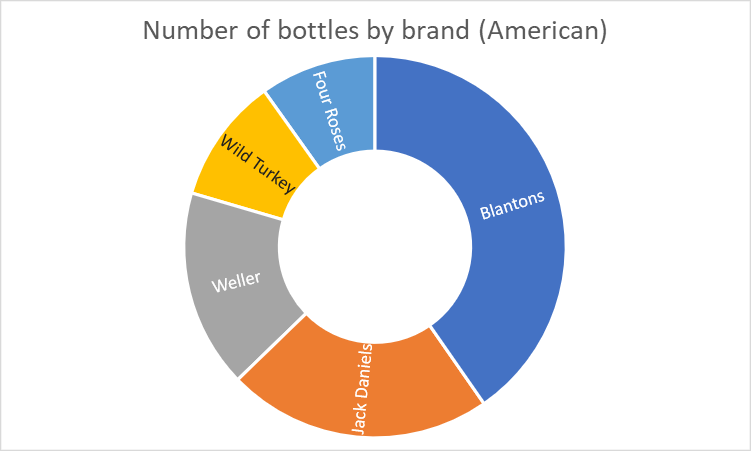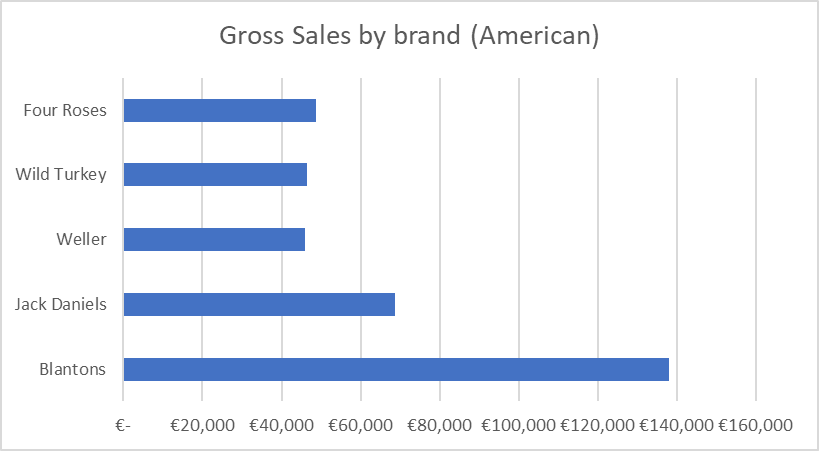 Blantons is the most widely traded American whisky, and with only a few distinct varieties available, it's worth keeping an eye out for at the store. Be wary of price hikes; many stores keep an eye on the secondary market and raise their prices accordingly, so have your wits about you if you encounter one in the wild and it's "retailing" for €150+.
Although Jack Daniel's sold more bottles than Wild Turkey and Four Roses combined, its gross sales were about half of what they were. This denotes lower-priced bottles, so do your research and use The Whiskey Companion app before purchasing any JD bottles as investments at a shop!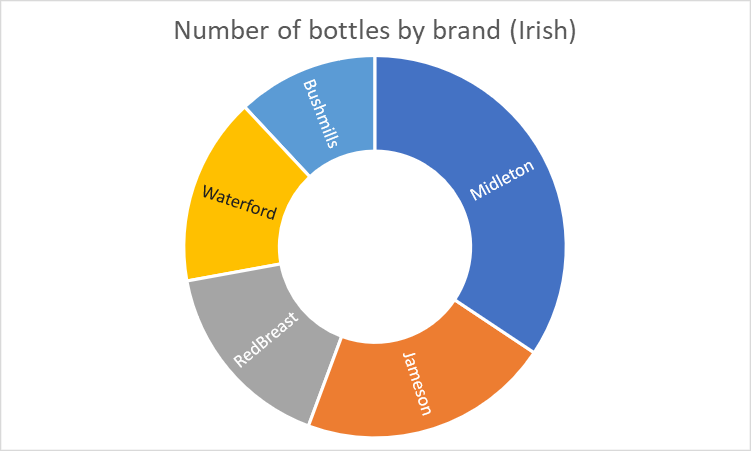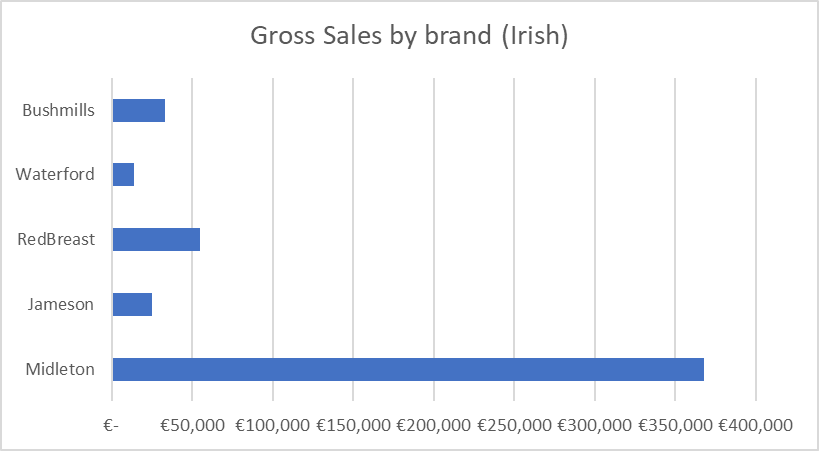 Midleton's Irish Collectible title will be difficult to take away, and the main contender appears to be its sibling, Redbreast. Midleton can thank two of its most prestigious bottles for a large amount of the volume sold, with Chapters 1 and 2 of the Silent Distillery collection selling for €48,000 and €46,000 (after the auction closed) on Irish Whiskey Auctions this month. These are ultra-rare and unique 45- and 46-year-old bottles that may compete with some of the major hitters in Scotch and Japanese whisky, which have long overshadowed Irish whiskey.
There are several bottles from Jameson and Waterford that are traded, but the sales volume is simply not there. When you take away the big hitters from Waterford, like the Pilgrimage and micro cuvees, the average decreases from €90 to €63 a bottle, which is far below retail. Obviously, given the sheer volume of bottles sold, there is a market for them, but I don't believe collectors have picked which Waterfords they want to collect. With four Micro Cuvees planned per year, the Cuvees/Micro Cuvees seem to make sense, but only time will tell.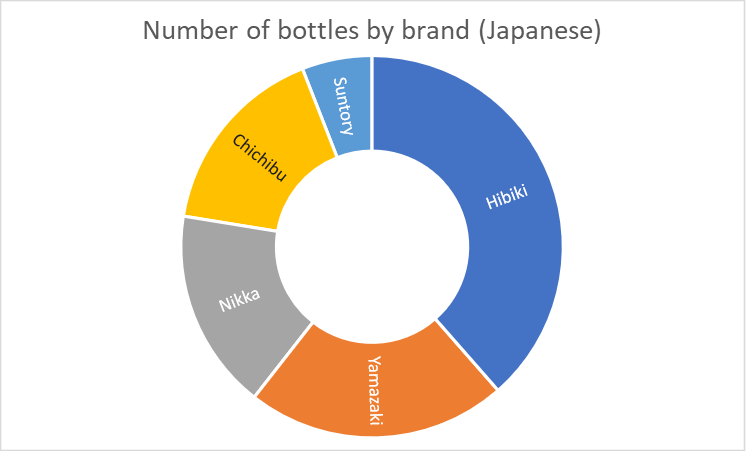 Yamazaki and Hibiki are collectors' favorites, receiving the most attention each month. Chichibu is another one to keep an eye on, with high average bottle pricing. Yamazaki came close to dethroning Hibiki in gross sales this month, with an average lot price of €1,745 – nearly double that of Hibikis.
Most Traded (individual expressions)
| | | |
| --- | --- | --- |
| Name | Average Price | Number Sold |
| Macallan A Night on Earth in Scotland | €141 | 265 |
| Ardbeg Fermutation Committee Release | €282 | 216 |
| Macallan The Harmony Collection Rich Cacao | €335 | 207 |
| Lochlea First Release | €135 | 178 |
| Macallan Concept No.3 | €218 | 171 |
| Ardbeg For Discussion Committee Release | €90 | 169 |
| Wire Works First Release | €73 | 130 |
| Balvenie The Creation Of A Classic Stories Range No.4 | €89 | 115 |
| Hibiki Blossom Harmony 2021 | €389 | 95 |
| Bowmore 15 Year Old Aston Martin Edition 2 | €84 | 94 |
Top 10 traded bottles
Ardbeg 'Fermutation' Committee release continues trading hands in high volumes with 216 sales occurring, and still way above retail showing that the committee releases are definitely ones to invest in if you can get them. Lochlea has dropped a couple of percent from last months prices, but still a large number being sold and above retail which shows us that their audience is quite large and a lot of people are interested in what they're doing. Wire Works had their First Release trade hands 130 times. On average this went for €73, a little below the retail price of €77 reminding us that not all first releases will instantly go up in value.
Overall, the top 10 here saw a 2.5% decrease in prices on average with the Bowmore 15 year old Aston Martin Edition 2 taking a 6% hit. It'll be interesting to take a look next month to see if this trend continues for the top 10 and people who want to buy these are slowly getting less and less, or perhaps we will see some new top traded bottles?
There were 2 Irish just outside the top traded with Midleton Very Rare 2021 trading 88 times and Bluespot Batch 1 trading 70 times.
Biggest Movers
J.J. Corry The Cyber Monday has gone from bad to worse at auction for sellers. I suppose the bottle had some value at a retail price of €200 for a 20 year old Single Malt Irish Whiskey with 200 bottles at 46 percent ABV, but it appears that the market didn't think so. Last month, it reached a high of €239 on Whisky Auctioneer, but other sales that month pushed the average down to €153, or 23% below retail. This month, it has plummeted even further, down 21.5 percent to just €120. I'd think it's an excellent value for drinking at that price, and perhaps some consumers will follow that method, leaving fewer bottles out in the wild and enhancing the value even more. If you were of a mind to buy one right now, Irish Malts still have some bottles at retail or Tiny Tipple have them by the dram
Bushmills 28 Rare Cask #1 Cognac isn't seen very often, and its price has dropped dramatically from its initial auction price of €2,000 last year. When you consider that the two that sold this month went for an average of €620, I feel terrible for the first buyer. It's difficult to explain what's caused the downturn; by all accounts, the Rare Cask series should perform well, with a high age statement, a collection to be followed, and one of Irish Whiskey's most recognizable brands. Rare Cask version 2 was recently launched, and we'll see it in April's auction report. I know a few are available right now on Whiskey Bidders, and more will be available soon on Irish Whiskey Auctions, so I'll be keeping a watch on it to see if it follows in the footsteps of the original Rare Cask. Perhaps it will rekindle interest in the previous series as well.
Glenmorangie A Tale of Cake is an intriguing cask finished Single Malt that spends the last of its aging in Tokaji Dessert Wine Casks, which is believed to add a joyous, surprising, and pleasantly sweet flavour to Glenmorangie whisky, making it taste like a cake in a glass. It has fluctuated over the course of the year, but it has always remained above the retail price of €89. It jumped from €125 to €195 on average in January, and it's been correcting ever since. Prices have dropped another 17% this month, bringing the current average down to €141. Before it moves again, I expect it to level out this month around where it was in December 2021. Historically we have seen 3-4 months of decline then a large increase.
Midleton Very Rare 2015 has been on an upswing the last 4 months after taking a dip before Christmas. The average rose to €525 this month, up 22% from February. If you're a seller, I'd be cautious of this bottle in April and May at auction, as it has historically risen in March, dropped in April and May, then rebounded in June before plateauing for the summer. Although historical data cannot forecast the future, it can give us a hint of what to expect when it occurs three years in a row!
Ongoing Auctions
So that's all from me on the auction report of March, if you have any suggestions or queries please feel free to reach out to me and I will get back to you as soon as possible. If you'd like to explore this data in more detail, and get the downlow on where you should buy or sell particular bottles, it's all available when you signup to The Whiskey Companion. Until next time, checkout the auction calendar to find the ongoing auctions, with Speyside Whisky Auctions, Scotch Whisky Auctions, Whiskey Bidders, WhiskyAuction.com, Whisky.Auction all live and The Grand Whisky Auction starting on the 6th. Also the final few days to get bottles in to Irish Whiskey Auctions for their auction later this month.