Released in 2013 with Barry Crocketts Signature, a certificate of authenticity and an invite to the distillery as his last installment to the Very Rare collection. The Very Rare series has been enjoyed by Irish whiskey lovers worldwide since 1984!
Midleton Distillery, Old, Distillery Walk, Midleton, Co. Cork, P25 Y394
One of the longest operational distilleries in Ireland. Formed in 1975 to consolidate the production of Irish Distillers (Powers, Jameson, Cork Distillers) whiskey. It was built on the site of the Old Midleton Distillery and their visitors centre shows you both the old and new distillery.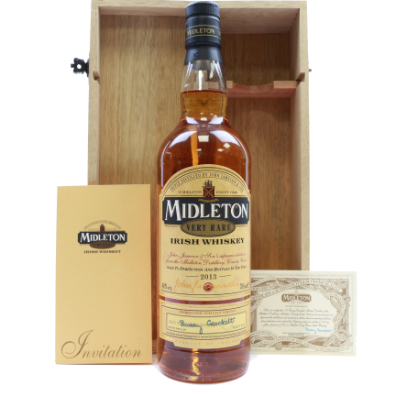 Nose
Palate
Finish
Additional
Submitted by
N/A
N/A
N/A
Length: medium
N/A
V
| Date | Price | Auction Site | Whiskey Name | Url |
| --- | --- | --- | --- | --- |
| Sorry, this is a patreon only function. Signup here to avail of this | | | | |
Sorry, this is a patreon only function at this time. Signup here to avail of this